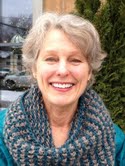 Kathleen Clary Miller has written 300+ columns and stories for periodicals both local and national, and has authored three books (www.amazon.com/author/millerkathleenclary). She lives in the woods of the Ninemile Valley, thirty miles west of Missoula.
*********
I came to Montana from water—albeit Pacific salt.  Hence when the temperature suddenly rises it has this past week to bless us with a brief onslaught of warm, dry air, and I can hear our otherwise silent, dry, narrow creek rushing over rocks and running downhill for its very life, I am soothed.  Ah (breathe deeply), it is the end of another long winter.  And even if what I hear isn't an ocean, I am nonetheless with water once again.  

Between twice-weekly trips to Missoula for groceries the hillsides go from deadwood dun to as green as Ireland.  Did all these leaves happen during some fairy-tale slumber?  In Missoula, the tree-lined streets are overnight shockingly canopied.  Dappled sun winks across sidewalks sprinkled with bicycles and pedestrians holding Big Dipper ice cream cones.  Wasn't it three days ago these lanes were barren, branched by brown?

Outside my office window, the small tree has blossomed, literally within hours. Hummingbirds are hopeful; bees drop by to sip.  A robin has selected this very foliage as his stopgap between twig deliveries to the abutting eave where he carefully constructs the nest to attract his lady.  And so a veritable cacophony of hums and drums concerts in my ears.  Such intoxicating symphony of Spring!  

Spring is a short season in Montana (blink and it's summer)—all over the map in terms of weather.  Today I hearken to my red-breasted robin and madcap creek.  Tomorrow it could snow.  Or rain; with lightning and thunder and wind wild enough to make scarce the emergent bear that is newly attempting to ravage my trashcan.  To banish the woodpecker tap tap tapping at the logs of my home.  Break out the Bermuda shorts, but don't put away the mittens quite yet; you never know.  Once we shrug off bluster and blizzard, Montana is nothing if not a surprise.  

For now, I have today.  I'll take my lunch over to the log that crashed to my ground some long time past, alongside small water that speaks to my soul.  See what else is new.  Tomorrow will bring whatever it may.  For now, I'm calling it.  It's Spring…and just in time for summer.