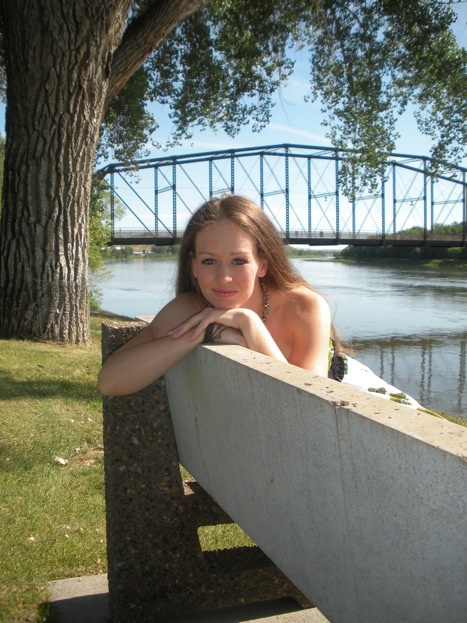 Lacey Middlestead is a Montana native and freelance writer currently living in Helena, Mont. She loves meeting new people and helping share their stories. When she's not busy writing articles for newspapers like the Independent Record and Helena Vigilante, she can usually be found indulging in her second greatest passion–playing in the Montana wilderness. She loves skiing and snowmobiling in the winter and four wheeling, hiking, boating, and riding dirt bikes in the summer.
********
Susan B. Anthony said that bicycling "has done more to emancipate women than anything else in the world. It gives women a feeling of freedom and self-reliance." 
On August 23, upon arriving in Great Falls after completing a 9 ½ hour, 101- mile solo bicycle ride up from Helena, I understood what Ms. Anthony meant. My ride was a battle in which I was the lone warrior fighting. My mind and body were pushed to the ultimate extremes. When I wanted to quit, I was the only one there to convince my trembling legs to keep turning circles. But somewhere along the way I was overcome with an immense feeling of peace and freedom. It was a high that I'm still smiling about and riding on at this very moment.
At 6:30 a.m., while Helena was beginning to rustle itself awake, I steadily climbed the hill out of town. My sights were set on the ever-watchful and iconic Sleeping Giant in front of me. I smiled noticing sunflowers lining both sides of the highway. Their faces were turned towards the blood red sun rising in the smoky sky to the east. To me, they were beacons of hope reminding me to stay focused on the light at the end of tunnel---whether that be the end of my ride or the next obstacle in life.
Ten miles before Wolf Creek I coasted down onto the frontage road which I followed for the remaining 80 miles to Great Falls. Winding curiously alongside the Missouri, it is a beautiful drive indeed. But on a bicycle, it is spectacular. It was therapeutic in a way that can't be described....only felt. 
While my odometer ticked by each slow mile, my eyes wandered over the calm parts of the river where fly fishermen stood casting lines. I hollered out excitedly to herds of grazing cattle I passed and marveled at large white pelicans that dotted the sandbars in the river. As I passed over an old trellise bridge a few miles past Craig, I tipped my helmet in respectful admiration to a trio of kayakers paddling below me. Seems I wasn't the only one on a journey that day.
For 101 miles I trudged along alone, but I was never without the grace of the sun on my brow, an occasional breeze at my back and the Mighty Mo serving as my compass. Many people come to Montana for vacation. For them this place is a dream. Us Montana natives often forget how truly lucky we are. My ride slowed me down and made me take notice of all the tiny blessings and beauty encompassing me.
When I finally reached the top of the hill overlooking Great Falls, I was utterly exhausted and relieved. And yet, I felt a terrible sense of loss knowing that my journey was almost at its end. To have pushed myself so far for so long was miraculous to me. I had made it. I did it alone. And I felt the most wonderful sense freedom and accomplishment.